Eastern Long
Island Blue Water Task Force 2018
Water Quality Report
The Blue Water Task Force is the Surfrider Foundation's citizen science program that generates critical water quality information in coastal communities around the country to inform safe beach-going and to raise awareness of local pollution problems so solutions can be found. On the East End of Long Island, Surfrider Foundation Eastern Long Island, the Concerned Citizens of Montauk and the Peconic Baykeeper have joined forces to perform year-round water quality monitoring of 50 sites between Hampton Bays and Montauk.
The water quality information generated by the Blue Water Task Force augments the data that the Suffolk County Department of Health Services (SCDHS) provides through their seasonal beach program. Sampling locations include ocean and bay beaches, estuaries, ponds, coastal ponds, and stormwater flows. Water quality samples are tested for the presence of enterococcus, a fecal bacteria that indicates the presence of human or animal waste in the water and other pathogens that can make people sick. Water quality results are compared to the health standard used by the County to make beach closure decisions, specifically 104 colony forming units of enterococcus per 100mL sample (104 cfu/100mL).
Southampton Sites & East Hampton Sites
During 2018, trained volunteers and staff collected 1277 samples (up from 1143 tests run in 2017) generating water quality information for recreational waters across the East End. This report provides an analysis of water test results for all monitored sites in 2018. Table 1 below shows sampling locations, site type, the number of samples taken during 2018, and the percentage of samples with bacteria counts exceeding the health standard of 104 cfu/100mL enterococcus, or percentage high bacteria.
Table 1. 2018 Blue Water Task Force Data Summary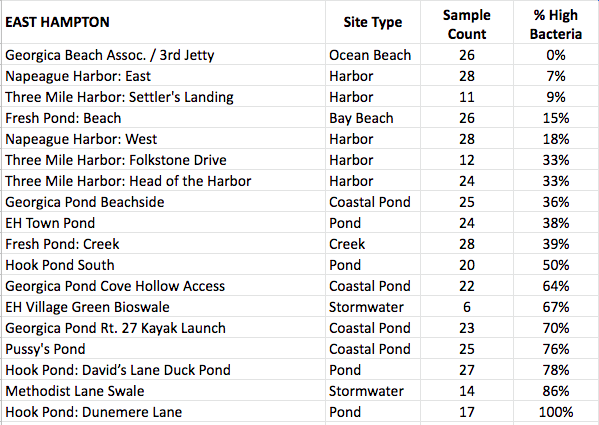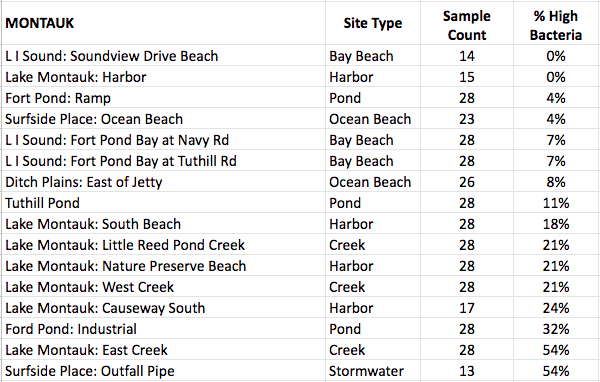 Water test results indicate that many sites on the East End frequently experience high bacteria levels that exceed the health standard. This is to be expected in the creeks and outfalls that receive high volumes of stormwater runoff (like the outfall pipe at Surfside Place in Montauk or the Methodist Lane Swale in East Hampton Village) and in smaller stagnant water bodies with high populations of birds and waterfowl (like Pussy's Pond in Springs or David's Lane Duck Pond in East Hampton Village). The number of sites that show high bacteria levels on a consistent basis where people are recreating, however, is becoming alarming. In Southampton, Little Fresh Pond, Weesuck Creek, Mecox Bay and Windmill Beach in Sag Harbor all tested above the health standard at least 25% of the time they were tested. This means at least 1 in 4 samples measured high bacteria levels that could pose a health risk to bathers.
In East Hampton, sampling sites in Three
Mile Harbor, Georgica Pond and Fresh Pond Creek that are all used
recreationally for swimming, paddling and launching boats failed to meet health
standards over 33% of the time they were tested. In Montauk, most of the sampling sites in
Lake Montauk reported high bacteria levels approximately 20% of the time they
were tested, and the Fort Pond public access at Industrial Road tested high 32%
of the time.
It isn't easy to explain why many sites
tested high so frequently during 2018.
Generally speaking, ocean and bay beaches that experience a lot of
mixing and water exchange test clean with infrequent problems with high
bacteria levels. However, bacteria
levels can be elevated even in these types of sites, especially in the late
summer or early fall at the end of the busy tourist season when a heavy
rainfall occurs. Past analyses performed indicate that high bacteria levels are more likely to occur
when sampling during rain events or just following. Stormwater runoff that occurs when rain lands
on hard surfaces like streets and parking lots, carries pollutants like car oil
and dust, animal waste, lawn fertilizers and pesticides into our coastal bays,
ponds and ocean. Likewise, heavy rain
can cause flooding and cause groundwater levels to rise, which is particularly
problematic on the east end where most residences and businesses are serviced
by cesspools and septic systems. These systems need an adequate amount of space
between their drainfields and the groundwater in order to properly treat
wastewater and filter out bacteria and pathogens. When a heavy rain occurs,
untreated wastewater can leach out of cesspools and septic systems polluting
both ground and surface waters.
Many of the more protected sites in coastal ponds and harbors with less water circulation, especially in Montauk and East Hampton, saw obvious jumps in bacteria levels from 2017 to 2018. In Table 2 below you can see a number of sites that experienced fluctuations in high bacteria rates from 2016 through 2018. To view annual fluctuations for all tested sites click here.
Table 2. Annual Trends in High Bacteria Rates, 2016 - 2018

Annual rain levels as reported by the East Hampton Trustees from a rain collection station on Three Mile Harbor Road could provide some insight as to why bacteria levels at many sampling sites in East Hampton and Montauk showed an increase from 2017 to 2018.
Table 3. Annual Rainfall Amounts in East Hampton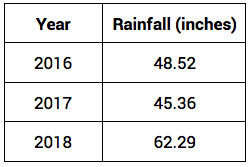 Groundwater data obtained from two
long-term wells monitored by the U. S. Geological Service in East Hampton and Montauk also show a
trend of rising groundwater levels from 2017 to 2018. Both Surfrider and CCOM have also heard
anecdotal evidence from residents complaining of having to spend more time
pumping out basements in 2018 because of high ground water levels. As explained above, cesspools and septic
systems need at least 2 feet of separation from groundwater in order to prevent
bacteria and other pathogens found in wastewater from getting into our ground
and surface waters.
Both the fact that 2018 was a wetter year
than 2017 and increasing groundwater levels could be contributing to the more
frequent occurrence of high bacteria levels measured by the Blue Water Task
Force at East End beaches in 2018.
Properties that are located adjacent and very close to the water can
also be influenced by high tides that saturate the ground during extreme high
tide events and cause cesspools and septic systems to leach into
groundwater. Moving forward, closer
tracking of rainfall amounts, groundwater levels, and tidal cycles will be made
to better categorize how these conditions affect bacteria levels in our surface
waterways.
In the meantime, please continue to take
precautions swimming in marine or freshwater after heavy rain events for 24-48
hours, especially in ponds and enclosed bay, creek and harbor locations. Keep
your friends, children, and pets out of streams, creeks, and any other obvious
sources of stormwater runoff at the beach. Do not enter the water where there
is a warning sign for high bacteria levels or a harmful algal bloom advisory.
And lastly, please rinse with freshwater before leaving the beach.
The primary goal of the Blue Water Task Force program is to provide water quality information to inform safe beachgoing and aquatic recreation. Community members are encouraged to check water quality results posted online before you head to the beach. All data are available here: go.surfrider.org/BWTF. You can also visit the Swim Guide online or download Swim Guide from the app store to easily access water quality information on your iPhone or Android at the beach.