Surfrider Foundation's Eastern Long Island Chapter has been active in protecting clean water, securing public beach access, and preserving our beaches and coastline for 22 years! 2020 proved to be a year like no other. Despite the challenges presented to us by the COVID-19 pandemic, our chapter found ways to grow, to prove our resilience, agility, and continue to protect our ocean waves and beaches for all people through a powerful activist network!

Despite the challenges to our programs set forth by the COVID -19 pandemic and NY On - Pause orders, our chapter found ways to be agile and to continue our program work with the safety of our volunteers at the forefront. We have exciting news to share around the growth of our Blue Water Task Force program, with the addition of a new lab, the growth of our water quality program, new approaches to beach cleanups, educational programs and events, and plans to move forward with the Methodist Lane Bioswale in 2021.

Surfrider Eastern Long Island remains the number one source of water quality information in Eastern Long Island, collecting data from over 65 beaches across the East End and providing critical water quality information to beachgoers and local authorities. Surfrider ELI has also worked alongside local partners to transform the East Hampton Village Green to provide an upstream solution to water pollution. Due to the success of this program we have secured funding and will install a third Ocean Friendly Garden on Methodist Lane, East Hampton in the Spring of 2021.

OCEAN FRIENDLY GARDENS
Methodist Lane BioSwale, Coming Spring 2021
Surfrider ELI is shifting the perspective of sustainable landscaping practices within our community. The beautiful East Hampton Village Green Bioswale, planted in 2017 was met with incredible acceptance in our community. This garden is thriving, and actively absorbing and filtering stormwater runoff on the Village Green.

Results from Surfrider's Blue Water Task Force water testing program demonstrates the success of the East Hampton Village Green Bioswale. water samples are collected at both the East Hampton Village Green Bioswale and the East Hampton Town Pond to monitor trends in water quality. Since the garden was planted, collecting a sample from the green has proven difficult as water only pools up as a result of a very heavy rain, whereas before the project was completed the area was frequently flooded: a testament that the garden is serving its purpose to slow down and soak up rain and stormwater runoff.
Because of the success of the East Hampton Village Ocean Friendly Garden, we have very nearly reached our fundraising goals for the new Methodist's Lane Bioswale project together with our community partners, Piazza Horticultural, East Hampton Village, the Ladies Village Improvement Society, and the East Hampton Garden Club. We plan to break ground on this project during the spring of 2021. Similar to the Village Green, the new project site likewise receives lots of stormwater runoff, and our Blue Water Task Force data indicate high bacteria levels frequently. The design for this project includes a wetland area, a pollinator garden and meadow with native plants and trees to soak up and filter runoff, improve water quality, and provide much needed native habitat.

When complete the site will also be another beautiful showcase of native plants, that will add beauty to this public space and inspire our community with ways we can all practice more sustainable landscaping in our own yards to be part of the solution to pollution.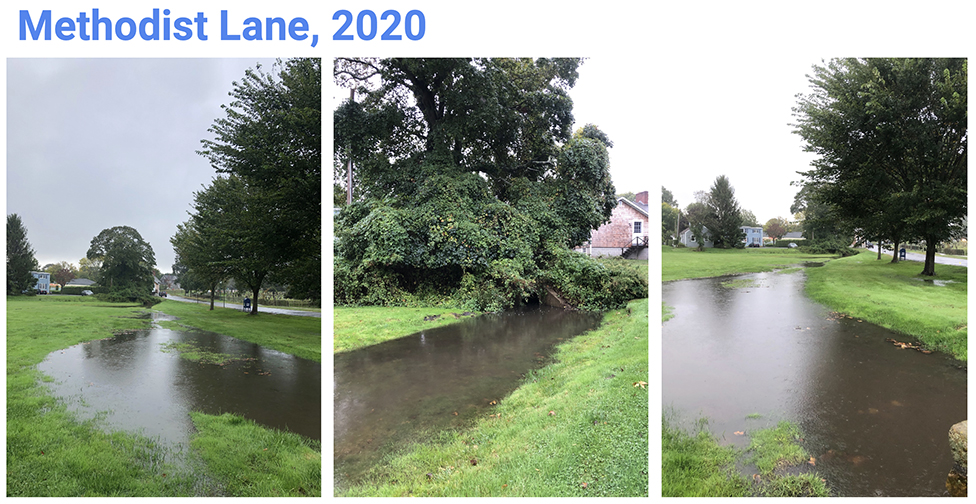 Ocean Friendly Garden Club, A Community Approach to Maintenance
Honoring Surfrider Foundation's mission of grassroots environmentalism, the Chapter has created the Ocean Friendly Garden Club, which is a team of specialized volunteers who will receive training and maintenance lead from Tony Piazza, of Piazza Horticultural on how to maintain our bioswales, to keep them looking beautiful and functional. This group will meet at both East Hampton Village Green and Methodist Lane to perform year-round maintenance.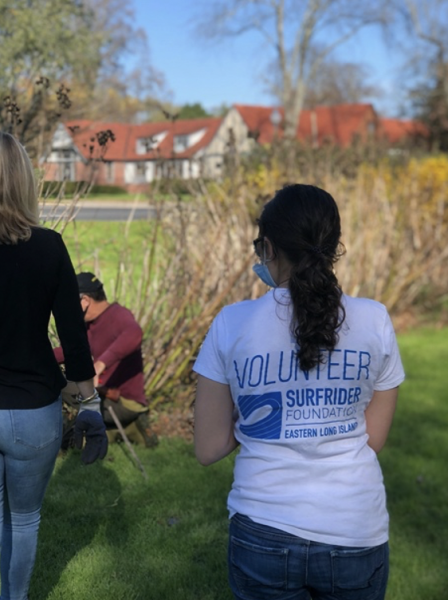 On November 11th, a small team of socially distanced volunteers met on the green to receive our first Ocean Friendly Garden Maintenance training, and spent several hours in the garden. Club members are learning about how native plants and toxin-free landscaping help support the health of the local watershed, and this Club will create great opportunities for involvement and community service for our chapter.

Blue Water Task Force
A New Lab for The Blue Water Task Force
For several years now, Surfrider ELI has partnered with the Concerned Citizens of Montauk and the Peconic Baykeeper to perform year-round water quality monitoring of over 65 sites between East Quogue and Montauk. Restrictions associated with the COVID -19 pandemic compelled each of our organizations to develop new plans to accommodate safe access to lab facilities.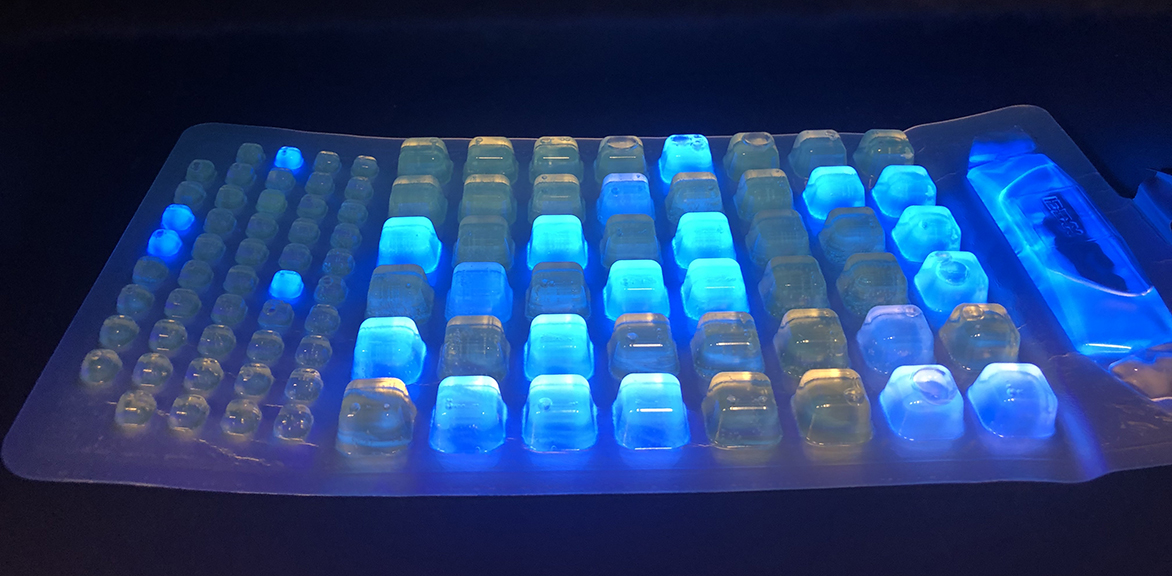 After having to suspend testing because of access restrictions to the lab equipment we were previously using at Stonybrook University, our chapter is very pleased to announce that we have purchased new water testing lab equipment which is being hosted by the Peconic Baykeeper in their office in Hampton Bays to process samples collected by the two organizations in East Hampton, Sag Harbor and Southampton.

Concerned Citizens of Montauk has also been able to provide continual water quality information for the East Hampton and Montauk sites they sample, even during New York On-Pause, as they have secure and safe access to their lab at their office in Montauk. Should our community experience another shut down by COVID-19, the Blue Water Task Force will be able to continue to monitor our water quality using safe and socially distanced procedures and not miss a beat when our community needs this critical water quality information the most.

The continued support of local community partners, donors and corporate sponsors has allowed the Blue Water Task Force to remain a well-established and effective program that both alerts the public about water quality conditions and communicates with local elected officials to work towards pollution solutions. The Eastern Long Island Chapter's Blue Water Task Force program has grown from a small partnership testing a dozen sites in 2013 to a massive volunteer effort today that provides water quality information at over 65 sites across the East End throughout the year.
Spreading The Word
Eastern Long Island's audience and number of supporters for our chapter and Blue Water Task Force program continues to grow. Our water quality results and reports are now shared with over 7,500 Facebook, Instagram and Twitter followers, 231 Water Quality Alert email subscribers and local government officials. Through these communications we are building community awareness of local water quality conditions and we are informing safe recreation and targeted pollution solutions.
Plastic Pollution and Beach Cleanups
Beach cleanups allow Surfrider to influence laws and reduce waste at its source, through volunteer participation and collecting valuable information on the types of waste found on area beaches. Beach cleanups serve as an education tool for community members to see the impact of litter and plastic waste on our beaches and ocean.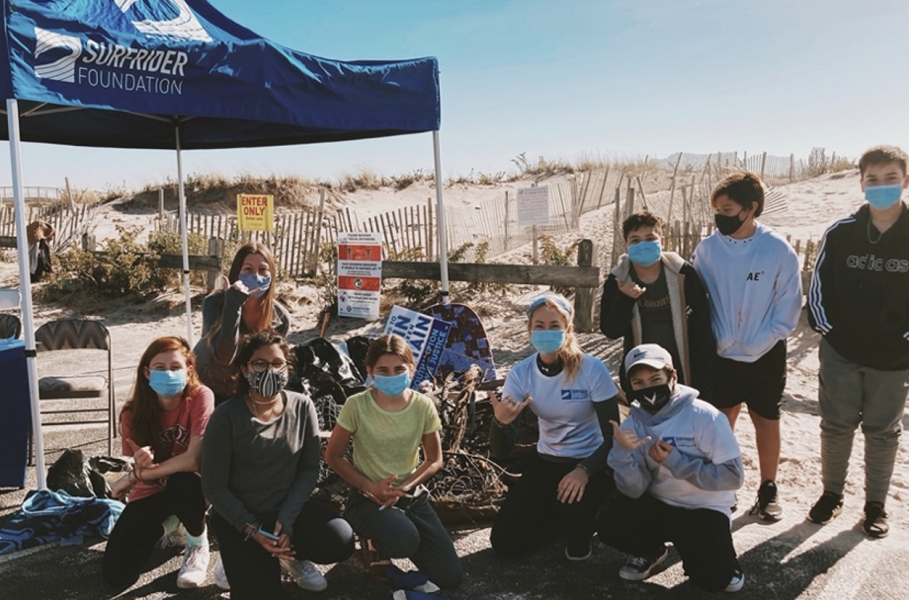 We understand that removing trash from the beach is not enough. Surfrider seeks to stop plastic pollution from the source. At each beach cleanup we hosted this year, volunteers participated in citizen science by collecting data about the types and quantity of trash found on the beach.
This data furthers our campaign to reduce the impact of plastic pollution in the ocean. For example, according to our beach cleanup database in 2020, we have collected 1,758 cigarette butts, 808 plastic bottles and over 4,032 plastic fragments larger than a dime from our beaches. Having this data available at our fingertips helps influence the consumer and also makes a great case to advocate for policy changes that will help prevent litter from reaching the beach.

In the past, the chapter has used beach cleanup data to spur a number of plastics-related campaigns in local town, village and county governments including this most recent victory: our beach clean up data was utilized to advocate for a ban on the intentional release of balloons in Suffolk County. The motion passed unanimously and was signed into legislation on September 27th, 2019.

In 2020, the chapter has hosted 13 beach cleanups and has removed 1,348 pounds of trash from local coastlines with the help of over 277 volunteers. As the COVID-19 pandemic runs it's course, the safety of our participants and volunteers is paramount. Our beach cleanups were completed in small, socially distanced groups. Our community also helped us haul over 500 pounds of trash from our beaches using our Solo Beach Clean Up Guidelines, and adding their haul to our BEACH CLEAN UP DATABASE.

Education Programs
Despite the challenges posed by the COVID-19 pandemic and NY On-Pause orders, the Eastern Long Island Chapter has educated 118 student volunteers and 27 adult volunteers in 2020 about the impacts of plastic pollution and polluted water. Our chapter will continue to educate and inform community members and constituents about simple ways they can help to keep our oceans and bays clean and healthy for years to come.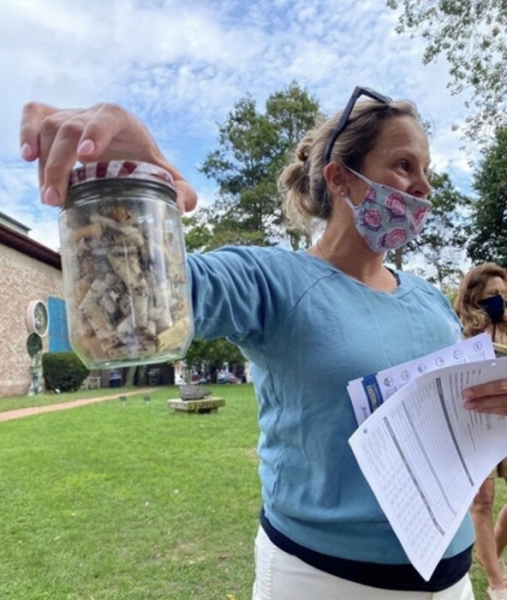 During these education programs we discuss with the participants how to stop contributing to local pollution problems and to instead become part of the solution to protect clean water. These educational programs include Ocean Friendly Garden Club Introduction, educational talks and tours of the East Hampton Village Green Bioswale, socially distanced Beach Cleanups and Water Quality educational talks with groups such as the Quogue Field Club Summer Camp 2020, The East Hampton Girl Scouts, The East Hampton Star's Summer Writing Camp for young journalists and other school groups on the East End.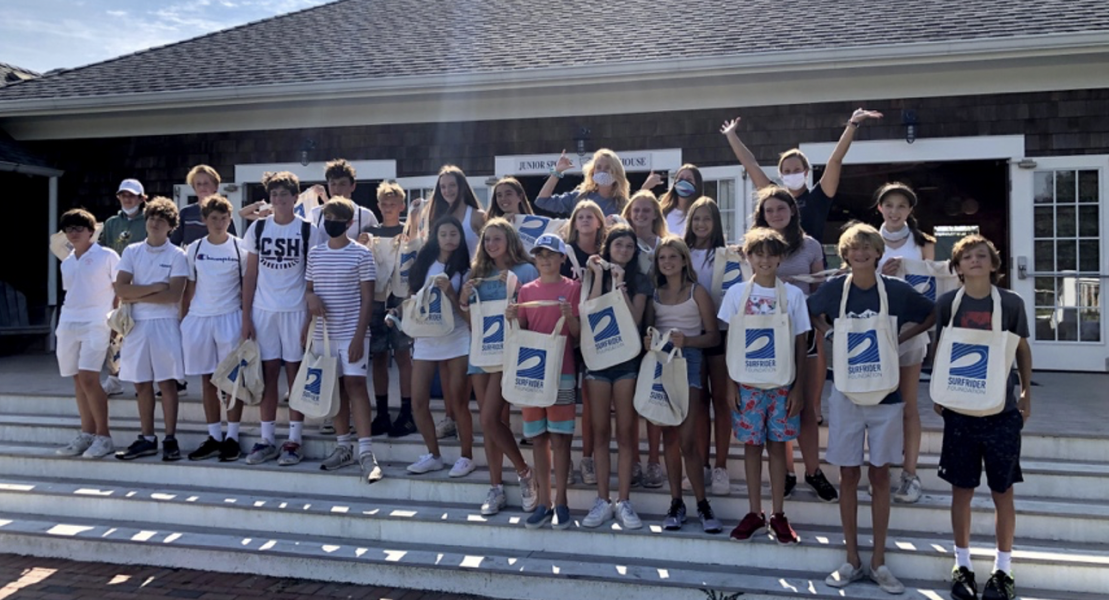 In the photo to the above, campers from the Quogue Field Club's 2020 session performed their own 4 - week beach cleanup where campers performed socially distanced beach cleanups throughout their session, entered over 100 lbs of trash debris data into Surfrider's Beach Cleanup Program Data Tool, and finished the season strong by all becoming new members of the Eastern Long Island chapter and raising over $4,000 for the local chapter.

Events
Surf Movie Night
Despite the challenges to group gatherings set forth by the COVID-19 pandemic, our chapter proved its agility on August 12th, 2020 by hosting our annual Surf Movie Night XVIII event and silent auction on a virtual platform.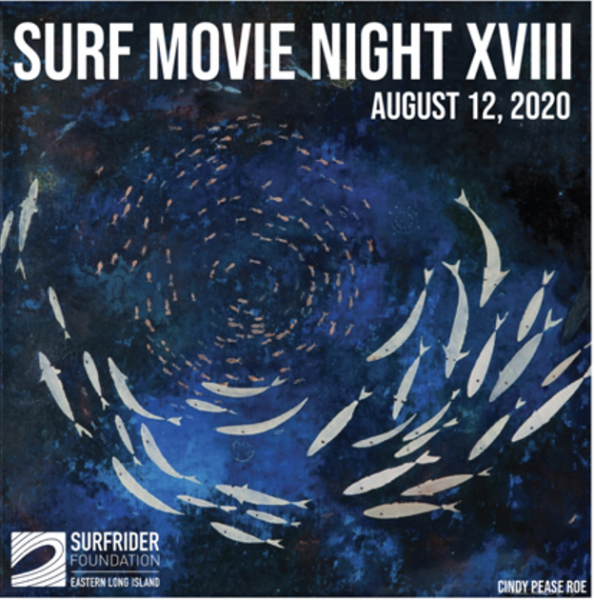 Our structured fundraising committee secured over 40 silent auction items that lived in a BidPal Online Auction for one week before the event. In our 18th year of partnership with Guild Hall East Hampton, tickets for the online screening, chapter memberships and silent auction raised much needed funding for our chapter programs, without the risk of contact. Surf Movie XVIII also helped our chapter to secure over 41 new members and would not have been possible without generous support from our community and the time of our dedicated volunteers.