When we began planning for this year's Surf Movie Night, we weren't sure how it would work. We went virtual last year, needed a new venue this year, and still didn't know how the pandemic might limit us from holding it in person.
However, we were pleasantly surprised with how all aspects of Surf Movie Night worked out. First, the outdoor theater at Southampton Arts Center is a beautiful place to spend a summer evening. They were kind enough to let us use their space before the films to hold a surf swap on the lawn. As people slowly trickled in with their boards, the quiet would occasionally be interrupted by a loud and cheerful greeting from one Surfrider member seeing another for the first time in a while. It was great to see old friends reuniting in-person for our chapter's longest traditions. Plus, we had many new faces join us this year!
During the surf swap, Mattitaco had their airstream set up by the stage to serve up their delicious tacos and Kombat.cha came to sell their tasty kombucha beverages. Visitors could walk around and visit our tables, enter a raffle, check out items for our online auction, or chat with our friends from Star Aqua Center and Southampton Village Ocean Rescue.
The surf swap ended as the sun started to set, so everyone could get set up on the lawn. As we waited for the sky to darken enough to start the screenings, we had a performance by stand-up comedian Paul Johnson. Our long-time member and local surfer Vinny McGann got onstage to represent our chapter. Vinny talked to the crowd about the epic Hurricane Larry waves that we saw the previous weekend and even got the crowd involved in his version of a surfer cheer.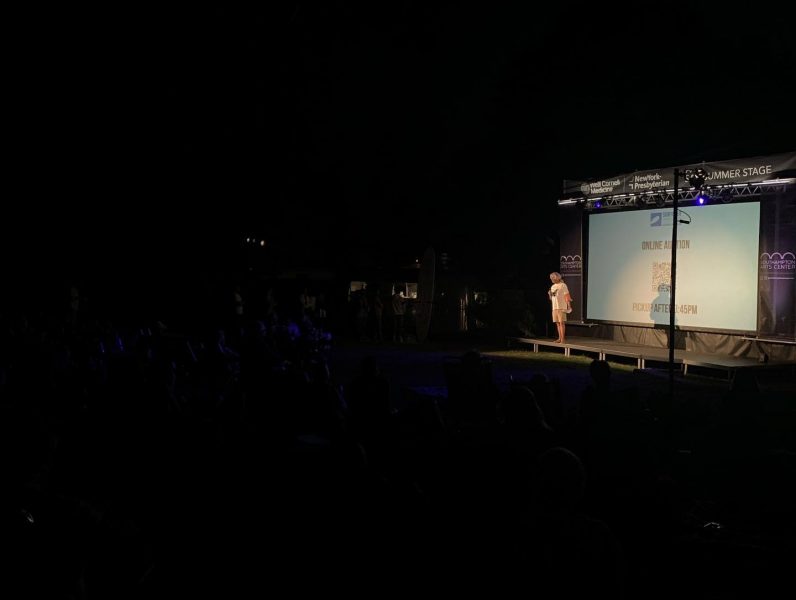 We had an amazing selection of short films this year. Both local and international filmmakers submitted their work to us and we were excited to show a diverse selection, with backdrops ranging from Jones Beach, Sri Lanka, Indonesia, Senegal and the Aleutian Islands. These short films were chosen because of their inspiring messages around conservation, diversity in surfing, and stoke! The full list of our films can be viewed below.
We have a lot of people to thank for helping us put on this amazing event! First we'd like to thank our sponsors for supporting this fundraiser – Free Rain, Chris Coleman Real Estate, Grain Surfboards in Amagansett, Bobby Alan Studios, plus our anonymous donors. We could not have done it without you. We also need to thank all the great local artists and businesses who donated to our online auction which was another amazing success. Finally, we owe a big thank you to all of our volunteers who helped us manage the event, plus Southampton Arts Center for hosting us. We were thrilled to continue our annual tradition in person and already can't wait for next year!
Thank you to our Sponsors:
Free Rain
Chris Coleman Real Estate
Grain Surfboards
Bobbly Alan Studios
Our Filmmakers:
In the Still Light of Dawn by Matt Barton, Hamptons Surf Co.
SOLACE by Amanda Prifti
Emerger by Women's Surf League
PASSAGE by Alessandro Manglaviti
Voice Above Water by Dana Frankoff
Summer Surf Jam by Elias Parise, Noah Clothing
Time and Tide by Drew Maloney
Arc of Aleutia by Chris Burkhard and Ben Weiland
Our Vendors:
Juliet Schreckinger
Kombatcha
Mattitaco
Westhampton Shirts

...and all of our Online Auction Donors!