By Christine Capelli, Vice Chair
Last week, over 150 Surfrider activists, students, and industry leaders from across the country were in Washington, D.C. to advocate for stronger protections for our coasts and oceans. Members of the Eastern L.I. chapter were there to meet with N.Y. Senators and local representatives to call for action on three key issues — clean water and public health, plastic pollution, and ocean climate solutions.
Protect Clean Water & Public Health
Aging septic systems are the number one issue our waterways face on Eastern L.I. — with stormwater runoff threatening the health of our communities, beachgoers, and coastal ecosystems. Programs like our Blue Water Task Force —which monitors the water quality throughout Long Island— are vital to protecting public health and keeping communities informed.
This is why Surfrider asked legislators for the largest investment yet: Appropriations of $15M for the EPA BEACH Act Grants program to fund beach water quality programs. As well as appropriations of $3B for the EPA Clean Water State Revolving Fund to upgrade failing wastewater infrastructure and stop sewage spills at the source.
Prevent Plastic Pollution
Every year 11M TONS of plastic pollution find their way into our oceans—posing a major threat to our ocean environment, coastal economy, and the food chain. Through our beach cleanups, the Eastern L.I. Chapter has identified plastic food wrappers, bottles, bottle caps and rings, and straws amongst the top five items collected in the past five years. While the problem may seem daunting, the solution is simple - we need to stop plastic at the source!
While in Washington, Surfrider called for legislation that bans easily littered single-use plastics and establishes protections for communities near plastic production facilities. Closer to home, you can support or become part of our Ocean Friendly Restaurants program throughout Long Island, and commit to reducing the use wasteful single-use plastics at our restaurants.
Support Nature-based and Ocean Climate Solutions
Sea-level rise, warming waters and acidification, and extreme weather events are all wreaking havoc on our coastal communities and marine ecosystems. Surfrider called our Federal leadership to implement and support solutions that prohibit offshore drilling, protect coastal and marine habitats, and fund essential NOAA programs.
Download the Federal Legislation One-pager to read about everything covered at this year's Recreational Hill Day.
Our work is far from done! And it's not too late to take action for the protection of our ocean and beaches.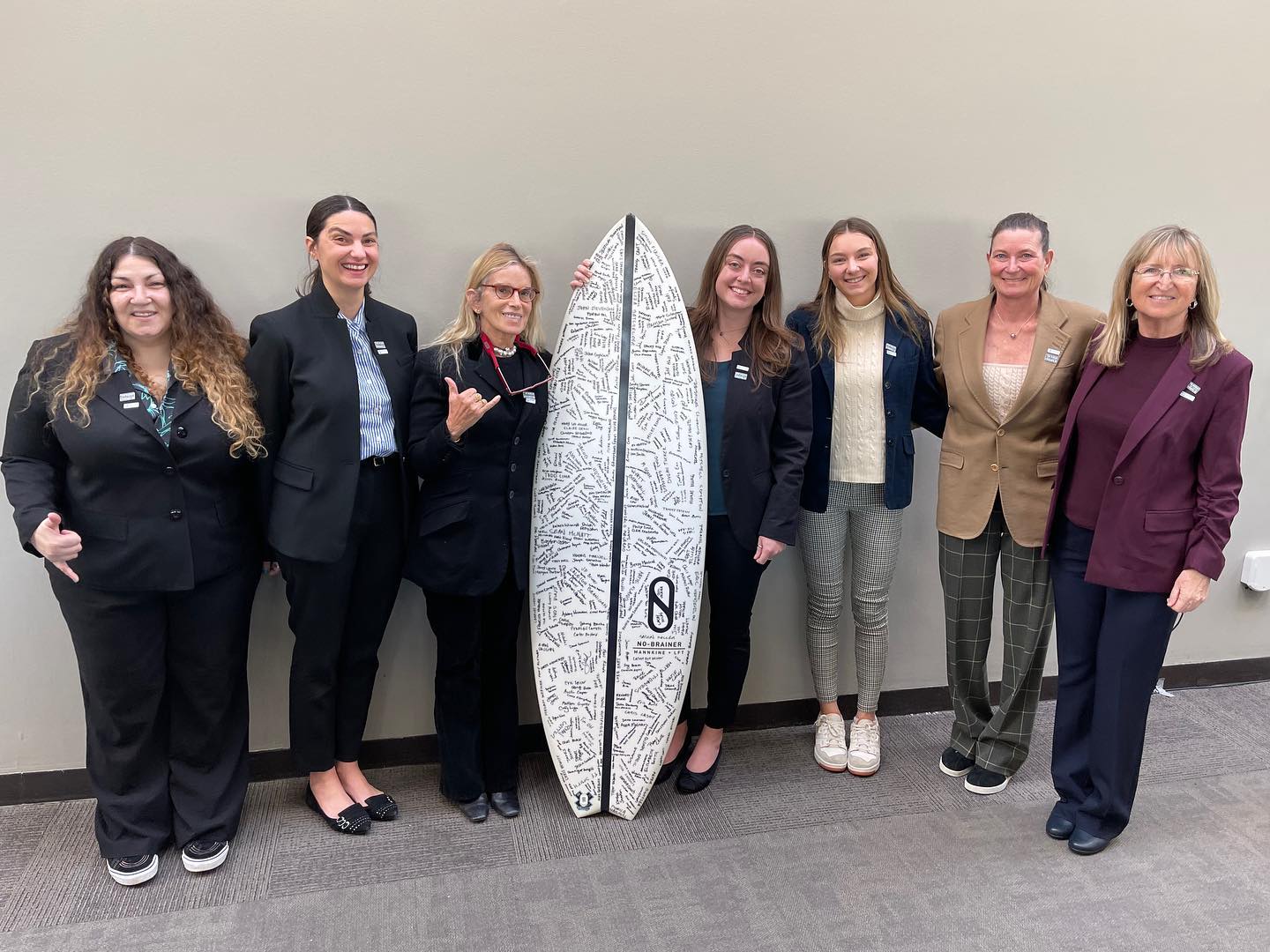 NY team photo! From left to right: Tree Foronjy, Volunteer Coordinator; Christine Capelli, Vice Chair; Liz Sans, Chair; Jenna Schwerzmann, Chapter Coordinator; Lola Garneau, Volunteer; Courtney Garneau, Volunteer; and Debbie Whalen, Treasurer for the Niagara Frontier Chapter.