The Surfrider Foundation Eastern Long Island Chapter announces Surf Movie Night XIII at Guild Hall, 158 Main Street, East Hampton, on Wednesday, August 5 at 7:00 p.m. sponsored by the Kate W. Cassidy Foundation.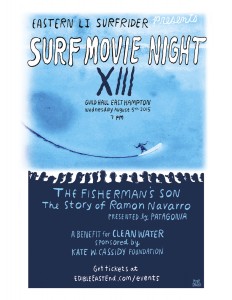 SURFRIDER FOUNDATION EASTERN LONG ISLAND CHAPTER PRESENTS
SURF MOVIE NIGHT XIII – "THE FISHERMAN'S SON"
AT GUILD HALL – WEDNESDAY, AUGUST 5 AT 7 P.M.
A BENEFIT FOR CLEAN WATER
HOSTED BY NICOLE DELMA AND JESSE SPOONER
SPONSORED BY THE KATE W. CASSIDY FOUNDATION
Tickets $20
Includes Peter Spacek/Ditch Ink t-shirt sponsored by Finlandia
Movie: The Fisherman's Son
Hosted by Nicole Delma and Jesse Spooner
Ocean Friendly Gardensby Tony Piazza/Piazza Horticultural
Rise Above PlasticsProgram by the Van Sickle Family
Beach Creatures Touch Tankwith Mike Bottini
Amazing Raffle Prizes
Proceeds from the evening benefit the Surfrider Foundation Eastern Long Island Chapter's Blue Water Task Force water quality-monitoring program.
SURF MOVIE NIGHT XIII will feature the Farm League/Patagonia production "THE FISHERMAN'S SON" directed by Chris Malloy. When a visiting surfer gave a board he broke to a young boy in Punta de Lobos, Chile, he had no idea what he'd started. Young Ramon Navarro, the son of a subsistence fisherman, would rise to the top of the big wave surfing world. Traveling the globe in search of gigantic waves to ride, Navarro lived much of his life on the road –an exploratory trip to Antarctica, a perfect 100 at the Eddie at Waimea Bay, an impossible barrel on the biggest day ever at Cloudbreak–he was everywhere. But when his home break came under threat of development, Navarro couldn't pass through his village tossing young unknowns his broken boards. He would preserve the waves so they might have them to ride.
Surfrider Foundation's mission is the protection and enjoyment of oceans, waves and beaches through a powerful activist network. The Eastern Long Island Chapter has been a strong advocate of public access and environmental preservation along our shoreline from Montauk Point to Moriches Inlet for over 14 years. Staffed entirely by a dedicated team of volunteers, the grass roots chapter has worked, and continues to work, with every level of government on resolving many important coastal issues. In addition, dozens of beach cleanups, educational programs, and dune plantings have been done with local students and community members.
BLUE WATER TASK FORCE WATER QUALITY MONITORING PROGRAM
Surf Movie Night supports our volunteer-run Blue Water Task Force (BWTF) water-testing program.
Since 2013, our chapter has been partnering with the Concerned Citizens of Montauk (CCOM) to test the water quality at ocean and bay beaches, creeks and storm water discharges in Montauk and Amagansett. Through the generosity of a grant from the Kate W. Cassidy Foundation, we have just expanded our monitoring program, and have starting sampling at Flying Point, Sagg Main, Georgica Pond and the third jetty.
The purpose of this water-testing program is to provide information on the cleanliness of our local waters and beaches and to build community awareness of the water pollution issues that exist. Recreational activities such as swimming, surfing, and fishing, and business interests such as commercial fishing and tourism all depend upon clean water and clean beaches. Visit the BWTF website before heading to the beach - Know Before You Go! http://www.surfrider.org/blue-water-task-force/chapter/37
VOLUNTEERS
The Surfrider Foundation Eastern Long Island Chapter relies entirely on volunteers to fulfill its mission of the protection and enjoyment of our local ocean, waves and beaches. Those interested in getting involved in many of our exciting programs and campaigns can contact our chapter's Volunteer Coordinator, Juliana Duryea, at volunteercoordinator@easternli.surfrider.org.
Advanced tickets available at:
Air and Speed Surf Shop (Montauk 668-0356)
Main Beach Surf Shop (Wainscott 537-2716)
Sunrise to Sunset Surf Shop (Southampton 283-2929)
On-line at edibleeastend.com/events
Sign up for a Surfrider Foundation membership on Surf Movie Night and get free admission!
Surfrider Story written on Edible: http://www.edibleeastend.com/2015/07/14/ride-wave-surf-movie-night-keep-water-clean/