What's In Your Water? Blue Water Task Force Water Quality Report (2013-2016)
Eastern Long Island's Blue Water Task Force began sampling local waterways in 2013, in partnership with the Concerned Citizens of Montauk (CCOM). This past September, our program expanded yet again by establishing a lab at Stony Brook Southampton in partnership with the Peconic Baykeeper. We sample for Enterococcus, a coliform bacteria that measures fecal pollution from either humans or animals. When enterococcus is detected, it indicates the presence of other harmful pathogens that can make people and their pets sick.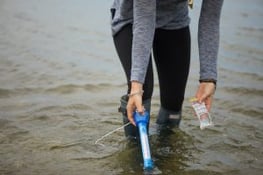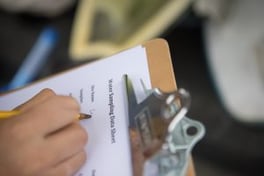 We looked back in time at the past three years of water quality data from June 2013 to October 2016, and the results indicated some clear trends in our water quality:
Bacteria levels tend to be higher in creeks and closed, still bodies of water than at open ocean and bay beaches.
Bacteria levels are higher during summer months, (June - September).
Higher bacteria levels are measured after rain events.
Our results show that on Eastern Long Island, creeks and closed bodies of water with little water circulation tend to be more affected by fecal pollution as demonstrated by a higher rate of bacteria levels above the EPA health standard for coastal recreational waters. Higher bacteria levels measured in bays, ponds and creeks during the summer months indicate a higher fecal load from the increased population of summer residents and visitors. We also found that certain sites, like those at the southern end of Lake Montauk, experience a spike in levels after it rains. The good news is our ocean and bay beaches generally test clean and are safe for swimming and surfing.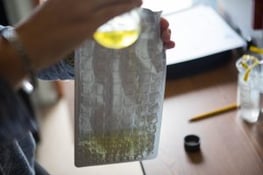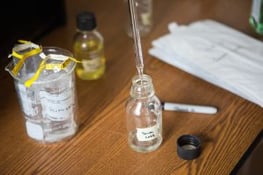 The goal of the Blue Water Task Force is to provide critical water quality information to protect public health, raise awareness of local water pollution programs, and to bring together the community to implement solutions. We encourage everyone to check out our water quality results posted online before you head to the beach.
East Hampton Results, Southampton Results
Other tips to protect yourself and your family from getting sick at the beach include:
Swim at ocean or bay beaches with lifeguards on duty.

Avoid swimming 24-48 hours after it rains, especially in ponds and enclosed bay and lake sites.

Keep your kids out of streams and runoff at the beach.

Don't enter the water where there are Blue-Green Algae Bloom signs posted. Don't let your dogs in the water either!

Rinse with freshwater before you eat or leave the beach.
Follow this link to see our in-depth report, including graphs of specific waterways: What's In Your Water? Blue Water Task Force Water Quality Report (2013-2016)