Now that the colder season is upon us, we are reflecting back on the successful completion of the Ocean Friendly Garden at Methodist Lane in East Hampton. Since it's been installed, we've seen a lot of beautiful native plants grow in and thrive, and they will only continue to grow and provide more benefits to our community with each season.

Native plants have many benefits, besides the beauty they add to our community. Our Ocean Friendly Garden:
collects and filters stormwater runoff, which used to pool up on the lawn and flow over the turf grass into the Hook Pond watershed, instead of soaking into the ground with the help of the extensive native plant root system.
requires less maintenance than non-natives, since the plants we used are adapted to our climate. This means no fertilizing and less watering!
provides important habitat to native bees, butterflies, birds, and other pollinating insects.
Keep reading to learn more about the native flowers in our garden. We encourage everyone to incorporate more natives into your own gardens and landscaping.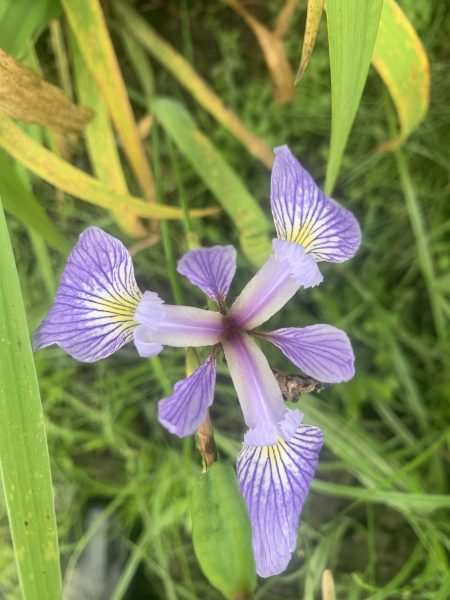 Blue flag Iris (Iris versicolor) - in May and June, these are some of the first flowers to bloom in our garden, and since they can withstand a few inches of standing water, they grow well in wet conditions.

False indigo (Baptesia australis) - another early bloomer, indigo fixes atmospheric nitrogen to increase soil fertility naturally, like other legume cover crops used by farmers.

Butterfly milkweed (Asclepias tuberosa) - this bright orange flower attracts butterflies and hummingbirds and has special importance to native bees, blooming June - August. Their leaves contains cardiac glycosides, which make monarch larvae and butterflies toxic to birds and their other predators.

Swamp milkweed (Asclepias incarnata) - this milkweed shares many of the same benefits as the butterfly milkweed, but grows better in wetter soils compared to its orange cousin. They are also more resistant to deer. You will see these blooming in our garden in July and August.

Black-eyed susan (Rudbeckia hirta) - this daisy-like flower provides nectar for bees, habitat for caterpillars and food for birds as they feed on their ripe seeds. This flower covered our meadow area from June to September, and makes a great border plant.

Rose mallow (Hisbiscus moscheutos) - also called the Swamp rose mallow, our native hibiscus loves the wet conditions of our bioswale, where the stormwater collects. They are a perennial plant that attracts pollinators and hummingbirds. They can be white, pink, or red and bloom throughout the summer and fall.

Golden tickseed (Coreopsis tinctoria) - technically an annual plant, but aggressively self-seeds. They are another important native species for pollinators and birds and bloom from June to September. A beautiful plant for a border or wildflower garden.

Seaside goldenrod (Solidago sempervirens) - softer and more delicate than other goldenrods, these beauties provide a gorgeous yellow color to the garden in August - October, after other native flowers have stopped blooming. They are also important for bees and their seeds feed birds getting ready for winter.

Interested in planting native flowers into your own garden? Check out these local resources:
Long Island Native Plant Initiative (LINPI) - the best resource for all Long Island native plant information. They also have annual native plant sales.
Peconic Estuary Partnership (PEP) - another great resource, particularly for the East End of Long Island, and they even have a rebate program for homeowners who install native plant or rain gardens in the Peconic Estuary watershed! Check out their Plant Database to find what will work for your yard based on soil type, light condition, and more!
Your local nurseries – ask if they carry natives and which ones will work for your property!
The Surfrider Club from East Hampton Middle School helped us clean up the garden at the end of the season. We collected cigarette butts, plastic bottles, food wrappers and more litter that had washed in with stormwater runoff, and talked about how other forms of pollution that we may not see -- like fertilizers, pesticides and pet waste -- can be carried from land into our surrounding waters. Then we shared some ways we can help reduce this pollution to help keep our local waters clean.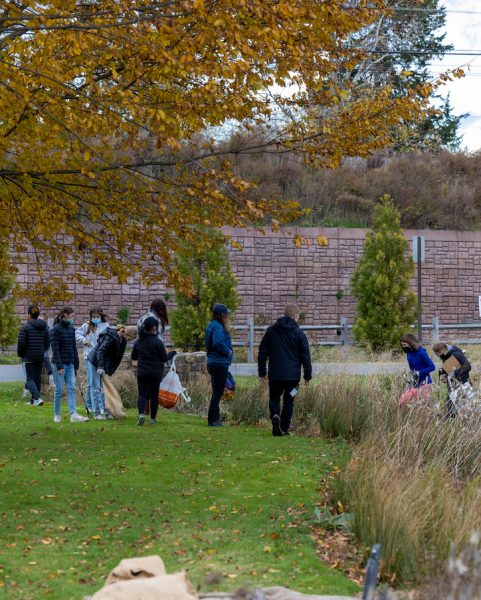 Thank you to John Ryan Jr. and the East Hampton Middle School Surfrider Club for helping us install and clean up our newest Ocean Friendly Garden! We'd also like to thank Piazza Horticultural for working with us to design this project, Bobby Alan Studios for documenting it's progress, as well as our other supporters: Mahoney Farm, The Ladies' Village Improvement Society of East Hampton, Suffolk County Soil & Water Conservation District, The Garden Club of East Hampton, East Hampton Town, and the Clean Water East Hampton Community Preservation Fund.